Repair of All Makes and Models by Certified Technicians on the premises
Our certified technicians repair virtually all makes of sewing machines and sergers on the premises and are available during most business hours. We maintain a large supply of parts, enabling us to achieve quick turnarounds on repairs. As a testament to our service proficiency, the Baltimore and Harford County Public School Systems have chosen us to maintain their machines.
We require a $20 estimate fee when a sewing machine is brought in for service. While other stores offer "free" estimates, we believe this fee is appropriate considering we spend up to 30 minutes diagnosing a machine, writing up a complete estimate and reviewing this with the customer by phone before proceeding with the repair. This estimate fee is credited towards the repair if we received authorization to proceed, so ultimately there is no extra cost to the customer. If customer determines the repair is not worthwhile, we offer to credit the estimate fee towards the purchase of a new sewing machine.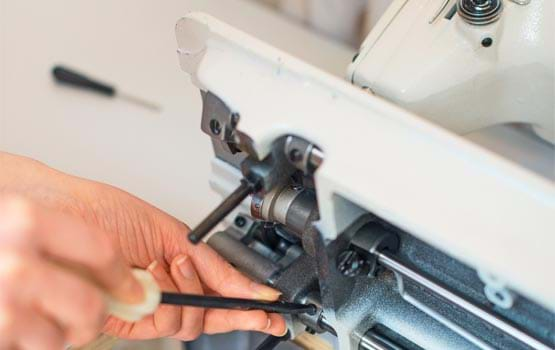 I can't thank you enough for fixing my sewing machine as hurricane Sandy was approaching. You really saved Nana. My granddaughter's costume will be completed. Thank you again so much