Central Vacuum Information
Central Vacuum Systems can be a great addition to your home. Central Vacuums have many benefits from helping with your health to environmental concerns.
What is a central vacuum system?

A central vacuum system consists of 3 elements:
Vacuum unit that provides suction and collects debris. It is typically placed in the basement or garage.
An accessory kit which includes a hose, power head for carpet, brush for smooth floors, other cleaning attachments, wands, tool bag and hose hanger.
Piping system which connects vacuum inlets and other devices to the power unit.
Living Green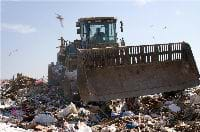 Central vacuums contribute to environmental sustainability. Longer lasting units made of recyclable steel with no disposable paper bags and filters result in less waste in our landfills. Improved indoor air quality is one of the five key areas of sustainability taken into consideration in attaining LEED Green Building Certification. The NAHB green building standard awards 5 points for a central vacuum system exhausted to the outside
Hose Management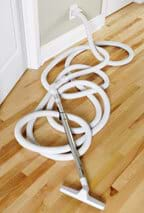 Central Vacuum Hose Management Products
Central vacuum hose systems have come a long way since our grandparents had these systems. Often the element of the vacuum system that is disliked is dragging and storing a hose that is 30 feet or more. Today there are many solutions to this challenge.
Hide-a-Hose – this revolutionary system uses the piping system to store the hose. Every inlet has a hose. The required length of hose is pulled out of the hide-a-hose inlet. Once cleaning is complete, the suction of the vacuum unit retracts the hose back into the piping system.
Vroom – A stretch hose up to 24 feet is stored in a slim, sealed container that is installed in a kitchen cabinet or vanity. The hose is pulled out to do quick clean-ups. When complete, the hose automatically retracts into the container.
Spot – Similar to a Hide-A-Hose, a 15 foot hose with a brush attachment is stored in the piping system. It is ideal for targeted cleaning such as dryer lint screens, cat litter boxes, work benches, hobby areas and more.
WallyFlex – This is a compact 13 foot stretch hose with a short cleaning wand that hangs from the wall. Similar to the targeted cleaning of Spot, WallyFlex is a more economical solution that is suitable for areas where a hose outside of the wall is acceptable.
Benefits

Central vac systems provide many benefits over portable vacuums:
Power is 3-5 times greater, so more dirt is removed with fewer passes of the vacuum tool.
The life of floor coverings is prolonged because more embedded dirt is removed.
Indoor air quality is improved because dirt picked up by the vacuum is not recirculated into the living space as with portable vacuums. This helps relieve asthma and allergy symptoms.
The hose and cleaning tools are lightweight, easing physical stress caused by operating a heavier portable vacuum.
Vacuuming is much quieter due to the remote location of the motor.
Central vacuum accessories are more versatile, providing the capability to effectively clean carpet, rugs, smooth floors, steps, furniture, walls, ceilings, vehicles and garages.
As built-in appliances, central vacuums add value to the home.
Central vacuums are a good investment, often lasting more than 20 years.
The longer life leads to a favorable environmental impact due to less waste in our landfills.
Large dirt receptacles and permanent filters result in less maintenance.