Not Just Vacs is a combination of two businesses, Bel Air Sew & Vac and its sister company Central Vacs Unlimited. We have been in existence for 42 and 28 years respectively, serving our community and building strong customers ties. Initially, customer bases and products were distinct but over the years there has been more and more overlap. Collectively, our customers have asked for the ability to order products and schedule service on line so we created a new ecommerce site allowing this. Requests for in-home service of central vacuums and intercoms, as well as quotes for new installation, and orders for most of our products can be made on our new website.
We service all makes and models of vacuum cleaners and sewing machines and are Harford County's only licensed Dyson warranty repair center. Our Central Vac and Intercom technicians service most of Maryland, Southeast Pennsylvania, Delaware, Washington DC and Northern Virginia. Call or visit our website to check service availability in your area.
Our warehouse is located in Forest Hill Maryland complete with a repair shop, office and showroom. We stock many products that allow the customers to "test drive" the products before purchase. We still offer the same great products and services to which you are accustomed; the only difference is our name.
We look forward to serving your vacuum, intercom and sewing needs in the future and thank you for the continued support of your local small business.
Mike, I can't thank you enough for fixing my sewing machine as hurricane Sandy was approaching. You really saved Nana. My granddaughter's costume will be completed. Thank you again so much

-Pat V. Maryland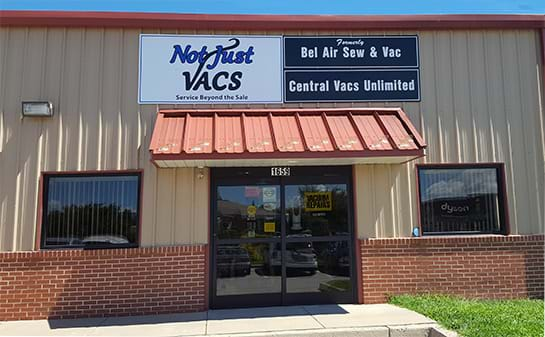 Our Clients